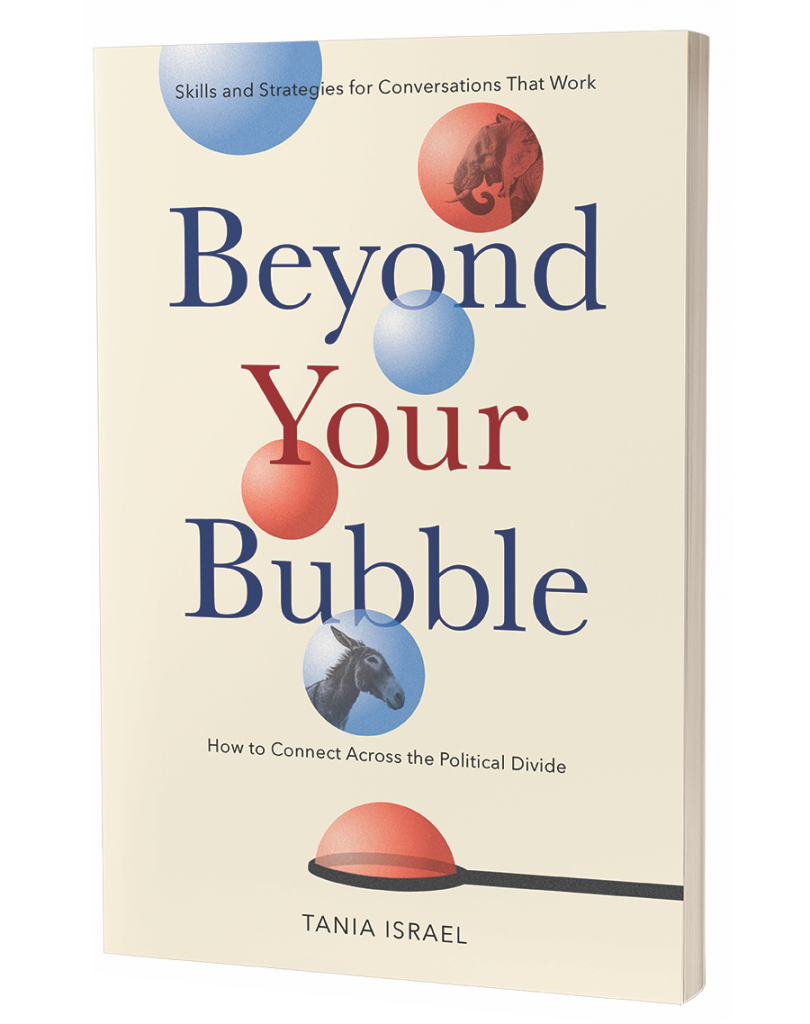 Beyond Your Bubble: How to Connect Across the Political Divide: Skills and Strategies for Conversations That Work is now available by Tania Israel and published by American Psychological Association Books. Buy now at:
Tania Israel wrote this book about how to have dialogue across political lines to offer practical tools to increase understanding and reduce stress related to political discord. Her book draws on a strong foundation of psychological theory, research, and skills and was inspired by the people who attended my workshops and wanted additional resources. With political polarization is at an all-time high, Beyond Your Bubble offers a bridge across this increasingly daunting partisan divide.
Beyond Your Bubble is an accessible, politically-neutral, resource for people who are interested in dialogue across political lines. It is relatable across demographics and timely for current concerns. The book introduces evidence-based strategies and focuses on skill-development. Readers can learn at their own pace and can practice – on their own, with others, with family, with community. It's great for groups: faith communities, political organizations and conferences, corporations, self-improvement workshops, nonprofit advocacy associations, book clubs, student groups, and classrooms.
Tania Israel is a Professor of Counseling Psychology at the University of California, Santa Barbara. With decades of experience as a researcher and change broker, she has facilitated educational programs and difficult dialogues about a range of challenging topics, including abortion, law enforcement, religion, and sexual orientation. Beyond Your Bubble draws on her strengths as a psychologist, teacher, writer, and community organizer.
Press for Beyond Your Bubble
Beyond Your Bubble has been featured in media such NPR, TED Ideas, The New York Times, The Washington Post, Psychology Today, Huffpost, ABC News, and many more.